There are two ways to increase your Facebook visibility. Both are paid efforts, but one is called an ad, and the other is a boosted post.
Many people confuse these two, which is completely understandable. A boosted post is, after all, an advertisement used to support certain types of content with a specific goal.
If you boost a post, you're using an existing post from your page's timeline and paying for it to be seen by a wider audience on Facebook. When you create an ad, you usually start from scratch with the creative (image/video, text).*
We're about to examine the key differences between the two in this article and explain when to use boosted posts instead of ads and vice versa.
*You can, however, use an existing post as the basis for an ad, this way you can then better target and place the ads than when boosting.
FACEBOOK BOOSTED POSTS
For brands just getting started on Facebook, boosted posts are the easiest way to advertise.
Facebook defines a boosted post as:
a post to your Page's timeline that you can apply money to in order to boost it to an audience of your choosing.
You can also boost a post that has not yet been posted to your timeline. Create the post and instead of publishing it, select Boost.
In contrast to Facebook ads, boosted posts are not created in Ads Manager and have fewer customization options.
When boosting a post, you can choose one of the following goals:
Automatic – let Facebook decide what should the goal be, based on your previous settings.
Get more messages
Get more website purchases
Get more engagement
Get more leads
Get more website visitors
Get more calls
Based on the goal you choose, you will be able to choose from different customization options.
In short, during the boosting process, you need to set three conditions:
Your target audience – the type of people you want to show your posts to
Your maximum budget – how much you want to spend during your campaign
Your campaign duration – the time period during which you want to boost your post
You can also choose where you want to place your boosted post:
Facebook News Feed
Instagram Feed
Facebook mobile app
Boosted posts require a budget, so Facebook considers them ads. Facebook will also list both boosted posts as ads on your monthly statement. 
Facebook – How to boost every post automatically
There is an even easier way to boost your best-performing content automatically. Boosterberg allows you to set your conditions – the audience targeting, ad placement, and conditions on which posts should be boosted or which shouldn't and does all the work for you. You just set it and forget it; Boosterberg does the rest.
Learn more about how Boosterberg can help you automate your social media post promotion here.
When should you use Boosted posts?
You should opt for boosting if you are new to Facebook and don't know much about creating ads. You will learn how Facebook ads work without having to understand Facebook's whole advertising system. By boosting your posts, you can increase engagement with your audience, grow your audience, and increase visibility by raising brand awareness. 
FACEBOOK ADS
In comparison to regular boosted posts, Facebook Ads are much more complex. With Facebook ads, you will have access to extensive analytics and statistics that will assist you in tracking campaign success.
One of the most significant differences between Facebook ads and boosted posts is how they can be customized.
Facebook Ad Customization Options
Facebook Ad objectives
There are several objectives or goals you can choose from when creating an ad:
Traffic
Leads
App Promotion
Sales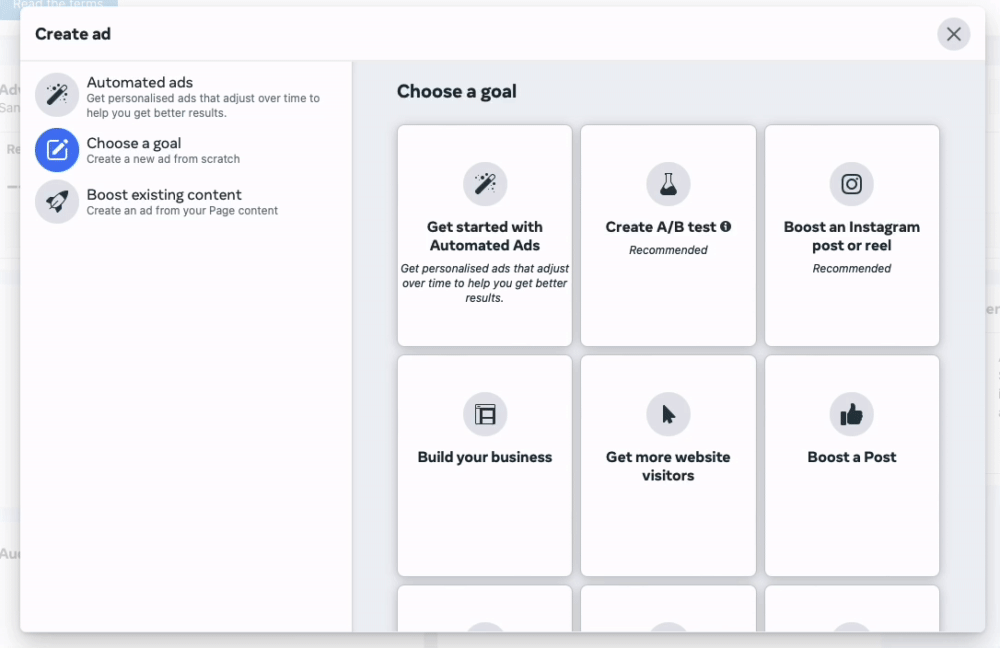 Different Facebook Ad placements
You can choose to show your ads in
The Facebook feed
Facebook feed sidebar
Facebook Marketplace
Facebook video feeds
Facebook search results
Stories and reels
In the Messenger app and Messenger stories
Instagram feed
Instagram Explore home/feed
Instagram stories
Instant articles
Audience Network (external apps and websites)
Advanced targeting
Facebook ads give you access to advanced audience targeting, which means you can create custom audiences, overlap them and even create lookalike audiences for your next set of ads.
Facebook Ad Creative
With Facebook Ads, you can create
Single image/video ads
Facebook and Instagram stories
Carousel ads
Different CTA formats to collect leads, drive traffic to your site or even promote products
When to use Facebook Ads
A powerful performance marketing tool, Facebook Ads are a complex, highly advanced system that allows marketers to reach their audience and achieve their goals. When you can't reach your Facebook goals with boosted posts because you need to create more advanced campaigns, it's time to start using Ads Manager.
To sum up
Use Facebook-boosted posts as an easy way to raise brand awareness, reach, and engagement. Use Facebook Ads to create sophisticated advertising campaigns with advanced targeting capabilities and creative options.